I'm Not Scared DVD
Secrets. Betrayal. Murder. Who can you trust when everyone's a suspect?
It is summer 1978, the hottest on record, and 10-year-old Michele (Giuseppe Cristiano) lives with his family in a rural southern Italian village, surrounded by endless expanses of corn fields, billowing beneath brilliant sunny skies. His days are filled with the familiar routines of childhood - performing dull chores for his mother (Aitana Sánchez-Gijón), minding his younger sister, Maria (Giulia Matturo), and embarking on his bicycle for outdoor adventures with the other village children.
On one such adventure at an abandoned house, Michele makes a shocking discovery.
A haunting coming-of-age story combined with breathtaking cinematography and nail-biting suspense, I'm not scared offers a vivid and frightening view of the adult world through the eyes of children - a journey from light to darkness and, ultimately, back to light.
ISBN: 5055201817266
€ 13.95
In Stock.
Usually despatched in 2-5 working days.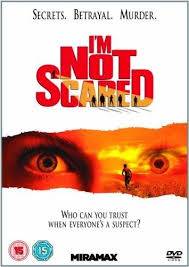 DVD
---
I'm Not Scared DVD
also appears in these Categories:
---