Clear, detailed road atlas of Ireland in a handy A4 spiral-bound format. This comprehensive, general purpose road atlas of the whole of Ireland is ideal for both business and pleasure use. The atlas contains a range of mapping scales:* 9 miles to 1 inch route planning map* Main maps at 3.2 miles to 1 inch, which are ideal for navigation.* A wide selection of detailed town centre street plans. This 2018 edition boasts road mapping packed with detail - showing colour classified road network, toll roads, land heights, the location of safety cameras, Blue Flag and Green Coast beaches, tourist information centres and a wide range of tourist attractions. There is also comprehensive guide information for visitors to Belfast, Cork, Dublin and Limerick. The locations of Speed Enforcement Zones, which highlight roads that have a high risk of accidents as identified by the Garda and the National Roads Authority, are included. There is also a wide range of fully indexed town and city centre maps. These are:Bangor, Belfast, Cork, Drogheda, Dublin, Dun Laoghaire, Galway, Kilkenny, Killarney, Limerick, Lisburn, Londonderry (Derry), Newry, Newtownabbey and Waterford.
160 pages.
New Edition
ISBN: 9780008270339
€ 12.05 Save €0.13 (RRP €12.18)
Temporarily out of stock.
Currently not in stock but due shortly. Usually despatched in 3 to 10 working days.
If you order this along with other items, your entire order will be held and despatched when complete.
Date of Publication: 07/02/2018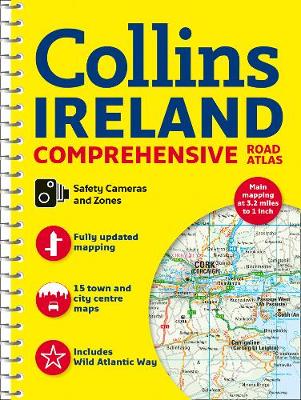 Spiral Bound
---
Comprehensive Road Atlas Ireland
also appears in these Categories:
---